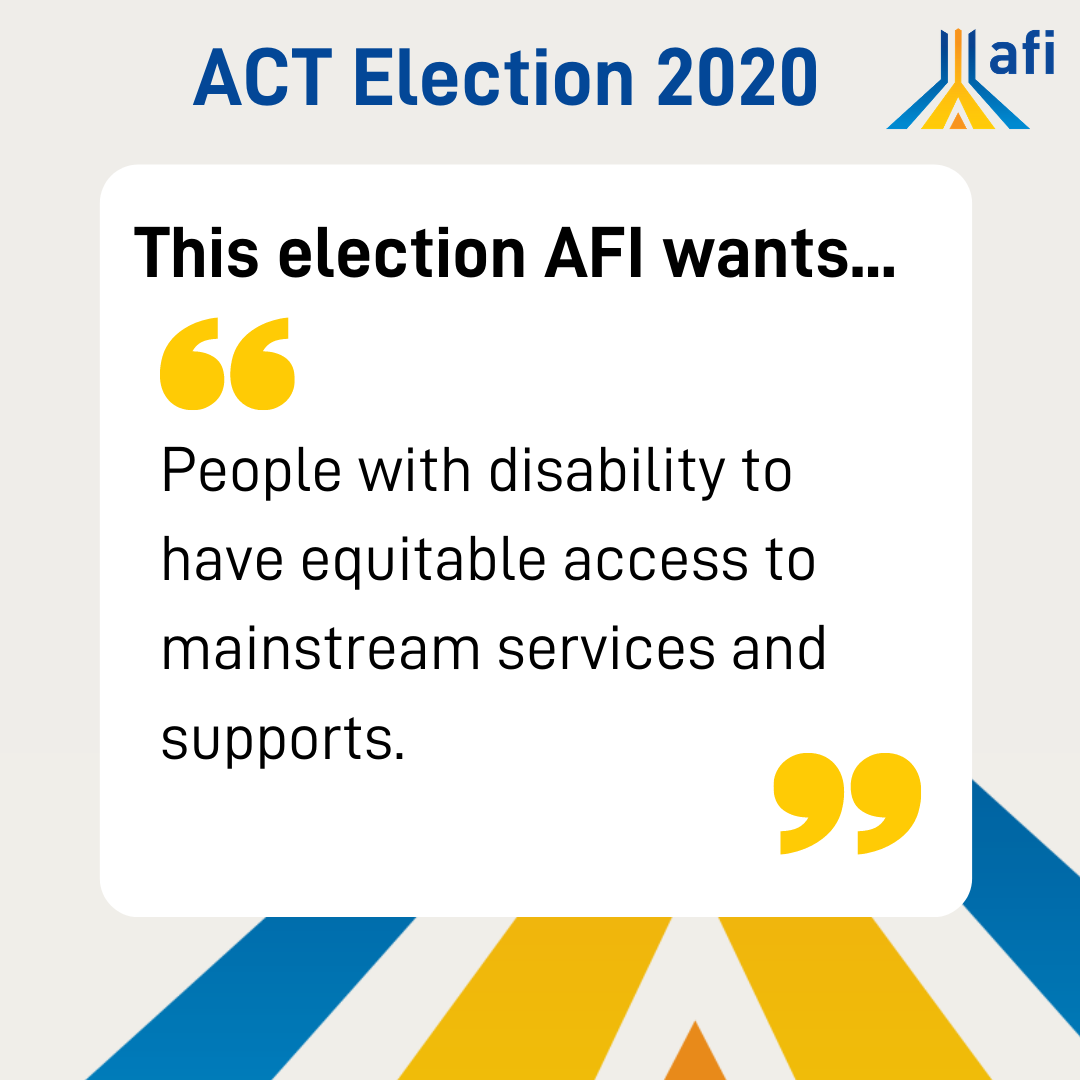 Improve and prioritise timely intervention to ensure supports and services are provided, and available over the long-term for people with disability to close gaps across health, housing, justice, and mainstream support.
What can the ACT Government Deliver?
Expand and bolster frontline services that provide crisis intervention to increase disability awareness and response.
Maintain and increase funding for individual advocacy organisations like AFI to support and represent people with disabilities at a greater capacity.
Ensure that all persons with disabilities in Canberra have access to continuous, viable, and adequately resourced community services to bridge gaps, particularly outside the NDIS.
Expand mental health projects that link to bridging gaps in individual advocacy between the Office for Disability and Office for Mental Health.
Improve the responsiveness of ACT's policies in areas such as health, education, justice, child protection and housing to ensure a disability liaison is placed to provide support. This will decrease pressure on advocacy services.
Commitment to fund dedicated supports for parents with disability to provide tailored support starting during maternal stage through a child's development as a means of early intervention.
Ensure the sustainability and efficacy of individual advocacy funding is increased to meet the needs of people with disability and mental health to achieve access to appropriate services and supports.
A commitment to continuing the Disability Justice Strategy. Providing people with disabilities exiting the AMC to have access to support services and advocacy before release, including housing, health services, employment, and training options.
Increase of funding for advocacy and support organisations for Aboriginal and Torres Strait Islander Canberrans to ensure these services are adequately supported to deliver the support under less pressure and burden of capacity.
Invest funding into boosting the capacity of organisations to develop resources to enhance people with disabilities in the community to understand their disability human rights through self-advocacy.