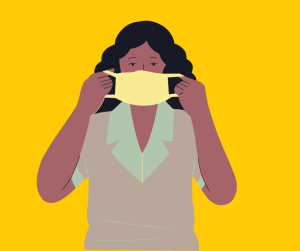 The ACT will end its mask mandate today at 6 pm. Advocacy for Inclusion (AFI) urges everyone who can wear a mask to continue doing so, indoors and wherever you cannot socially distance.
The ACT is removing the mask mandate as we head into one of Canberra's busiest weekends with the Canberra Show, Night Noodle Market and the resurgence of live music. ACT, this week, has also recorded higher than average covid infections.
CEO of Advocacy for Inclusion Nicolas Lawler said, "When you are out in public, continue to take covid-safe measures, social distance and wear a mask. People with disability and people with chronic health conditions are still at risk of becoming unwell if they catch the virus."
"As the pandemic continues and we shift focus to personal responsibility, we want everyone to remember that by wearing your mask, you are not only protecting yourself but others as well."
"AFI has had members reach out with continued concerns about receiving support or going out in fear of catching covid. There are also concerns about unclear guidelines for support workers, support impacts due to worker isolation or illness, lack of access to RAT testing and PPE. "
Throughout the pandemic, people with disability have been left behind in planning, policy, and implementation. On 17th February, The Royal Commission into Violence, Abuse, Neglect and Exploitation of People with Disability issued an ongoing "Statement of concern" that people with disability "are still not being appropriately prioritised during this phase of the pandemic in relation to health care, disability support and the vaccine/booster rollout".
AFI echoes the concerns raised by The Royal Commission and urges both state and federal governments to focus on the 10 areas of concern raised by the Royal Commission and priority measures from OzSage to keep people with disability safe and included in society.