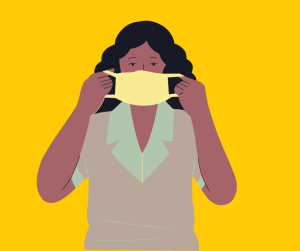 Information, guidance and resources – February 2023
As 2023 begins, AFI is providing information to people with disability on your rights to be part of decisions about COVID protections and to continue to feel safe in the pandemic.
While some of the ACT Government requirements have changed and there is less news about the pandemic in the media you still have the right to information, consultation and to make decisions which minimise your risk of COVID.
Many disability service providers are continuing to take steps to safeguard people. Others may be less aware of the issues for people with disability. This message may also interest them.
This message highlights and revisits key principles and provisions as outlined in the NDIS Code of Conduct, as well as the National Standards for Disability Services. These codes and standards incorporate and reflect the principles within the United Nations Convention on Rights of Persons with Disabilities (UN CRPD). It is also informed by a body of shared work at the interface between COVID and disability including the White Paper on COVID and disability, our Shared Statement and advice from OzSage.
In particular, we highlight the evidence around the vulnerability of people with disability to COVID, the rights of people in settings to be consulted, the rights of people to have good information and the rights of people with disability to be kept safe from abuse, neglect and poor health outcomes.
Choice, Control and Rights  
The NDIS Code of Conduct requires workers and providers who deliver NDIS supports to respect the individual rights to freedom of expression, self-determination, and decision-making, reflecting Articles 14, 19 and 21 of the UN CRPD. In terms of face mask requirements, this means recognising the individual agency of people with disability living within different settings. People with disability have the right to receive the support and information necessary to enable them to make and implement decisions that affect them. Ensuring people have the support they need to engage in decision-making is central to Australia's obligations under the UN CRPD, specifically Article 12. Resources for supported decision-making are included in the attached appendix.
The ACT Government has committed to enabling and facilitating choice and control through the NDIS. The capacity to exercise choice and control hinges on the extent to which people with disability are consulted and informed about decisions which ultimately affect their health and well-being. Face mask policy is one such decision. People with disability are an 'at-risk' population within the context of the COVID-19 pandemic for a range of clinical and socioeconomic reasons. Those who require support from disability service workers are at greater risk as these individuals move in and out of a range of settings.
Mask wearing, specifically N95 masks, remain one of the most effective public heath measures to reduce COVID transmission. They offer a straightforward way to reduce the risk for everyone.
Continued vigilance 
AFI support the position of the OzSAGE Working Party for People with Disability in COVID-19 which recommends a precautionary approach to COVID.  For instance, we do not support any removal of mask protections in high-risk settings.    
As we begin 2023 we are in a surge phase of the pandemic with new variants while nothing has changed to cause us to revisit our advocacy for continued protections and a cautionary approach.
Knowing the risks 
While the media and Governments aren't talking about COVID as much in 2023 it's still a reality and a risk for people with disability.
At present, new variants of the airborne SARS-CoV-2 virus have evolved high levels of evasion to our vaccine and infection-generated immune defences. Re-infection rates are increasing and vaccination rates for people with disability and disability support workers have continued to fall behind that of the population average. Vaccines are important, but alone they are not enough to fully protect those who are most at risk.
We know that people with significant impairment, including cognitive disability, are more vulnerable to COVID. Data from the United Kingdom indicates that people with disability are more likely to die from COVID, with greater disparities at younger ages. Mortality is higher still (three to five times) among adults with intellectual disability. Children less than 16 years of age have a six to nine times higher rate of hospitalisation in the UK. In Canada, individuals with Down syndrome died at a rate 6.6 times higher than those without intellectual disabilities. In South Korea, people with disabilities were 6.5 times more likely to die from COVID-19 than the general population.
As we mention in our submission to the Federal Inquiry into Long COVID, there is also an urgent need for a better understanding of the impacts of Long COVID on people with an existing disability, but what we do know about presentation and detection, especially amongst people with intellectual disability is not encouraging.
What this means for consumers and providers
The continuing COVID pandemic along with changes in Government policies means that there are things that consumers and services both need to know to make decisions and ensure that the rights of people with disability are upheld.
Advice for people with disability: 
You have the right to be consulted about any proposed changes in COVID protections in the places and spaces you live, work or receive services  
You have the right to wear a mask, to request social distancing and if you live in a disability setting to find out about steps being taken to minimise the risk of COVID
If you live at home you have the right to decide who comes into your home and to ask people to wear masks and to be COVID safe as a condition of entry into your home
You have the right to ask what your disability service provider is doing to maintain a COVID safe environment including asking for the COVID safety plan
Advice for disability services: 
AFI invites providers to note the evidence about the continued importance of protections and urges the retention of face masks in high-risk settings in accordance with the evidence
People with disability residing within settings have rights including to be consulted about changes to COVID requirements which may effect their lives and health; and
Invites providers to make use of supported decision making tools, such as those offered by AFI and which are attached to this message, in conversations on these issues
Practical resources 
These resources may help you make decisions and initiate conversations on COVID, your safety and your rights:
Academic resources 
Colon-Cabrera, D., Sharma, S., Warren, N. and Sakellariou, D. (2021). "Examining the role of government in shaping disability inclusiveness around COVID-19: A framework analysis of Australian guidelines." International journal for equity in health, 20(1), pp.1-11.
Dickinson, H., Kavanagh, A., Dimov, S., Shields, M., and McAllister, A. (2023). "Political legitimacy and vaccine hesitancy: Disability support workers in Australia." Policy and Society (early view).
Goggin, G. and Ellis, K., 2020. "Disability, communication, and life itself in the COVID-19 pandemic." Health sociology review, 29(2), pp.168-176.
Kavanagh, A., Dickinson, H., Carey, G., Llewellyn, G., Emerson, E., Disney, G. and Hatton, C. (2021). "Improving health care for disabled people in COVID-19 and beyond: lessons from Australia and England." Disability and health journal, 14(2), p.101050.
Raz, M. and Dorfman, D. (2021). "Bans on COVID-19 mask requirements vs disability accommodations: a new conundrum." JAMA Health Forum 2(8), pp. e211912-e211912). American Medical Association.