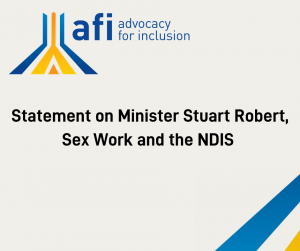 MINISTER STUART ROBERT, SEX WORK AND THE NDIS
While Minister Stuart Robert has received backlash regarding his recent comments regarding the NDIS and sex work, which have rightly been labelled 'offensive' and 'crass', his comments also raise deeper concerns for the future of the NDIS.
Advocacy for Inclusion (AFI) CEO, Nicolas Lawler said: "by undermining the importance of this issue and choosing to discuss it in a way which seemed intended to spark public outrage, Minister Robert is showing a concerning lack of empathy and understanding of the realities of life for many people with disability."
This is particularly worrying, given Minister Robert's further comments regarding potential legislative changes to the NDIS:
'And that's what the legislation will seek to do. It'll seek to say, give some boundaries, provide some, some guidance in terms of what is reasonable necessary that way participants can plan, and the agency can make decisions knowing full well they are within the body of the law.'

Minister Robert, 3 February 2021
Despite the Federal Court ruling that NDIS participants may use funds to access specialised sex worker services if it was considered 'reasonable and necessary', and the ACT Government strongly backing the support of sexual expression through NDIS plans, Minister Robert is apparently pursuing changes to the NDIS legislation, as he doesn't feel this meets 'community standards':
'I'll move to actually define what is reasonable and necessary so we can meet community standards'

Minister Robert, 3 February 2021
We are yet to see exactly what will not be considered 'reasonable and necessary' under the proposed changes.
"AFI believes that a person who is not listening to and understanding the needs of people with disabilities should not be defining what is or is not 'reasonable and necessary' for people with disabilities.
As the Minister responsible for the NDIA, Minister Robert must listen and respond to the needs of people with disability. He must not reduce choice and control in the NDIS." Mr Lawler Concluded.
For more information or comment, please contact Carla Millner-Bradley, Office and Communications Manager, AFI on 02 6257 4005.