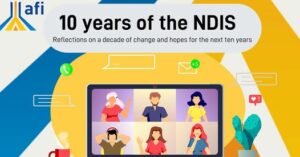 What  
A forum organised by Advocacy for Inclusion next Monday will mark, celebrate and reflect mark ten years since the Bill to fund the National Disability Insurance Scheme (NDIS) was introduced by the Federal Parliament by former Prime Minister Julia Gillard as well as the schemes announcement for launch in the Australian Capital Territory.
Who
The Hon Dr Andrew Leigh, Assistant Minister for Competition, Charities and Treasury
Nicole Lee, President of People with Disability Australia and Disability Advocate
The Hon Alicia Payne, Federal Member for Canberra and member of the Joint Committee on the National Disability Insurance Scheme
Charlotte Bailey, ACT Down Syndrome Association and Down Syndrome Australia Employment Ambassador
Sean Fitzgerald, long term Canberra advocate for individualised funding and the NDIS
When and where
The forum will take place online from 12:00 to 1:30, Monday 15th May 2023. RSVP here to join us.