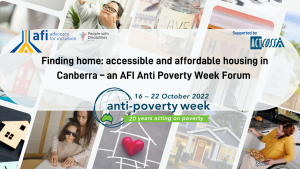 New analysis released today for the start of Anti-Poverty Week by peak Canberra disability group Advocacy for Inclusion (AFI) has shown that people with disability in Canberra on income support face an income shortfall of up to $824 a fortnight just to afford food, clothing, transport, essentials and housing. The analysis is part of two new white papers which press for changes to income support and action on affordable housing. The release comes as the Barr Government marks 2 years since the last election as well as a week till the Federal Budget. 
According to AFI Head of Policy Craig Wallace, "We are always hearing about NDIS costs but in 2022 it is people with disability who face a Budget black hole, not the Federal Government.
"For the first time we've modelled a fortnightly budget for a person with disability which shows that a single Canberra income support recipient in rented accommodation, who is unable to drive with additional cost of disability (like food preparation, on demand transport and heating costs) faces a fortnightly budget black hole of $824 a fortnight. There is no provision for emergencies.
"These are conservative estimates within a dismal and frugal household budget and we have also released a tragic real life case study of one of our clients who died after a struggle with homelessness, poverty and DSP access. Together these bleak circumstances should shock Canberra residents and speak to the limits of our privilege.
"The reality is that some people cannot work in the current labour market and it is wrong to sink people into misery and poverty because of illness or disability. Poverty is far more likely to be persistent for us – in 2018, the median gross personal income of people with disability was estimated as $700 per week in the ACT, nearly half that of people with no reported disability ($1343).
"We call on the Albanese Federal Government to supplement the Disability Support Pension (DSP) with a Disability and Illness Supplement of at least $50 a week (for single people) that recognises the additional costs they face because of disability or illness. This supplement should be available to people with disability, as well as people with an illness that prevents them from undertaking full-time paid work. We also need reforms to DSP so it's able to be accessed by people who need it when they are in crisis", Mr Wallace concluded.
AFI CEO Nick Lawler noted that "model budgets being released today by AFI as well as Budgets by Care Financial all speak to the impossible position people are in and how much housing and transport contributes to cost of living pressures for our members.
"Our Housing White Paper today shows we need urgent action to address housing poverty, homelessness, inadequate cluster housing, housing market failure and a lack of supply.
"We need concerted action on housing across all markets via the ACT Disability Strategy. Specifically, we need to:
Reform the planning system to produce accessible housing
deliver accessible and well-maintained public housing at scale close to transport and urban centre travel paths
create more affordable and accessible housing which enables people to live independently in the community while devolving from failed group and cluster models
work with the development industry including architects, designers, town planners, real estate developers and property owners to create more accessible private rental with incentives, market development and regulation
reform and improve Disability Accommodation under Supported Independent Living so that it no longer pushes people towards group housing and provides adequate tenancy support for people with complex needs"
The Household Budget is at Attachment A.
You can also view our White Paper on Housing http://www.advocacyforinclusion.org/white-paper-on-housing/ and the White Paper on Income Support http://www.advocacyforinclusion.org/white-paper-on-income-support/ 
Housing and poverty issues will be discussed at today's forum Finding home: accessible and affordable housing in Canberra, being held via zoom from 12.30 – 2.00 pm. An AFI Anti-Poverty Week event supported by ACTCOSS #FindingHome    
Contacts: Craig Wallace, Head of Policy on 0477 200 755 or Nick Lawler, CEO on 0439 431 814
Attachment A