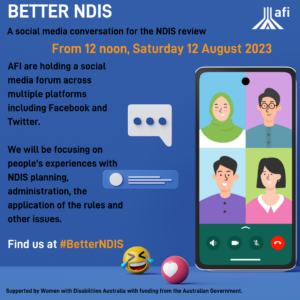 19 June 2023
A peak Canberra disability body Advocacy for inclusion has launched an innovative project to provide new insights into ways to build a better the National Disability Insurance Scheme
AFI's Head of Policy Craig Wallace said, "We are inviting people with disabilities across Canberra and the region to be part of conversations about how we can improve the NDIS in key areas including customer contact, markets and service workers as well as planning, administration and red tape. We don't have all the answers and we want people to help us build a better NDIS"
An Appreciative Inquiry will invite a group of NDIS participants to explore the quality, timeliness and nature of their customer interactions with the NDIS – especially with the call centre, staff, website and other front facing interactions – register to get involved here
Depth interviews will invite NDIS participants with different disabilities, support arrangements and package sizes to dive deep on experiences with workers and market challenges while a survey will assess and stocktake gaps in the market for workers and services – register to get involved here
A public social media forum will invite people to share their experiences with NDIS planning, administration and rules. The Forum will be held on 12 August and can be accessed via the event on Facebook or follow the hashtag #BetterNDIS
People with disabilities will be paid for their contributions to the Appreciative inquiry and Depth interviews with outcomes provided to the Australian Government NDIS Review. They will also inform the second part of AFI's two volume submission to the Review. Public consultations for the review close on 30 June.
The NDIS conversations are being organised by AFI with support from Women with Disabilities Australia and the Australian Government.
"People with disabilities have much to offer in efforts to improve the scheme – a more effective NDIS which delivers its promise for Australians with disability is a sustainable one which can deliver dividends such as a reduced reliance on acute care and improved social and economic participation outcomes", Mr Wallace concluded.
Media contacts: Craig Wallace, Head of Policy on 0477 200 755