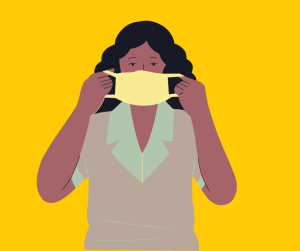 A peak body for people with disability in the ACT has backed criticisms of the lack of investments and measures to tackle long COVID, including in Tuesday's Budget, pointing to modelling which predicts it could become the leading cause of disability in Australia.   
Advocacy for Inclusion (AFI) A/g CEO Craig Wallace said: "As our White Paper on COVID19 and people with disability makes clear long COVID is shaping up as a leading cause of disability in Australia.
The World Health Organization estimates 10 to 20 per cent of people infected with COVID will experience ongoing symptoms.1 A study suggests Long COVID affects 1 in 8 adults.2
Emerging findings from the Doherty Institute indicate that Australian health systems need to prepare to care for thousands of patients with Long COVID.3 For example, 5 per cent of people diagnosed during NSW's 'first wave' were still experiencing symptoms three months later.4 Older people, women, and those with comorbidities were less likely to report recovery.
The Actuaries Institute told us back in July that if Australia followed UK trends we could see over 100,000 extra people compared with pre-COVID-19 with a serious disability, and another 300,000 with activity limiting disabilities5.
"These are not numbers we can ignore. We need to treat sick people with decency and marshal efforts to minimise suffering and disease. We know from bitter experience that early intervention is key and ignoring emerging causes of disability only leads to more pain, human suffering and costs for systems like the NDIS.
"We need research, specialised diagnostic clinics around the country, integrated treatment centres and arrangements which enable people to recover while maintaining employment. Going forward long COVID should be recognised as a disability and people with long COVID should have access to disability and income supports including the NDIS, supplementary aged care package support and the Disability Support Pension.
"We support comments by Senator Steele John and others highlighting this oversight in Budget and calling for work and investments. We will be flagging these issues in a submission to the Inquiry into Long COVID and Repeated COVID Infections by the Federal House Standing Committee on Health, Aged Care and Sport and would urge others, including people with long COVID, to make their voices heard", Mr Wallace concluded.
Contacts: Craig Wallace, A/g Chief Executive Officer on 0477 200 755  
[3:38 PM] Craig Wallace
[1] World Health Organization (2021) Coronavirus disease (COVID-19): Post COVID-19 condition. 16 December 2021; accessed 28 July 2022. The true prevalence remains contested.
[1] Ballering, A.V., van Zon, S.K., olde Hartman, T.C., Rosmalen, J.G. and Lifelines Corona Research Initiative (2022). Persistence of somatic symptoms after COVID-19 in the Netherlands: an observational cohort study. The Lancet, 400(10350), pp.452-461.
[1] Angeles, M.R., Wanni Arachchige Dona, S., Nguyen, H.D., Le, L.K.D. and Hensher, M., (2022). Modelling the potential acute and post-acute burden of COVID-19 under the Australian border re-opening plan. BMC public health, 22(1), pp.1-13.
[1] Liu, B., Jayasundara, D., Pye, V., Dobbins, T., Dore, G.J., Matthews, G., Kaldor, J. and Spokes, P., (2021). Whole of population-based cohort study of recovery time from COVID-19 in New South Wales Australia. The Lancet Regional Health-Western Pacific, 12, p.100193.
[1] https://www.actuaries.asn.au/Library/Opinion/2022/ResearchNoteno4.pdf