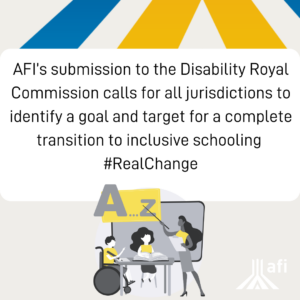 Advocacy for Inclusion has made a submission to the Disability Royal Commission which follows three years of work supporting private submissions and working with people in the ACT to support them to engage with the Disability Royal Commission. It also builds on decades of work and advocacy from various organisations' which merged into AFI, including the former People with Disabilities ACT. 
We reflect on work to improve the circumstances of people in large group houses following the Gallop Board of Inquiry; work to build a Disability Justice Strategy; efforts to create accessible spaces, places and services; attention to the circumstances of people with disability in disasters from the 2003 bushfires to the ongoing threat of COVID; campaigns to establish, found and then improve the NDIS; attempts to address falling employment rates across the Public and Private sectors; continuing campaigns for inclusive education and many other issues. 
Our submission focuses on eight key areas which need to change to make a material, lasting difference in the lives of people with disability as well as some which address specific issues within the ACT where we work and operate. 
These are reforming Australia's Discrimination Laws; enabling a path out of COVID for disabled people; lifting disabled people out of poverty; finding homes to thrive in; making Inclusive Education Work; a right to justice; making healthcare accessible; delivering the promise of NDIS; and levelling up to address gaps and barriers in service provision in the ACT. Read more here: